Rip Wilson – Senior Manager, Cloud Product Marketing
In my house, I'm often referred to as the recycling fanatic. I constantly check the trash for things that should be recycled, I make sure that plastic film is separate from single-stream recycling, and so on. I also have a tankless water heater, solar panels, and an electric vehicle.

Sustainability: Conserving finite resources
I do all of this because I believe that the resources we use every day are finite and should be used conservatively and wisely. It's why I'm so proud of our sustainability efforts at NetApp, and especially the new NetApp® BlueXP™ sustainability dashboard.
Back in February 2023, we took a leadership position and announced our plans for a dashboard that would give our customers real-time situational awareness of their sustainability posture, and also guidance to make improvements to meet their goals. The feedback was immediate: excitement. Sustainability initiatives have become a primary concern for enterprises faced with the challenge of tracking, reporting, and minimizing carbon footprint from their IT systems. This type of dashboard would be exactly what they needed.
The BlueXP sustainability dashboard is now live!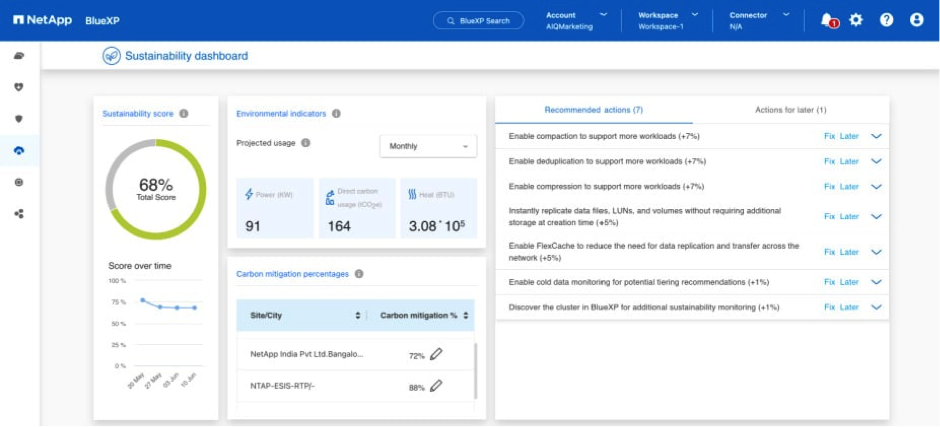 The BlueXP sustainability dashboard is available to all NetApp customers with a NetApp Support Site login. Both powerful and simple, the dashboard has three key components:
Environmental indicators. Customers can quickly and easily see their actual and projected power, thermal, and carbon metrics. This information is important for prioritizing systems or sites that need improvement and for projecting what the next month, quarter, or year will look like if things continue as they are.
Sustainability score. This unique metric assesses how many key NetApp ONTAP® features, services, and best practices geared toward improving sustainability are enabled. This information makes it easy for customers to see their current state and track progress toward their sustainability goals.
Recommended actions. We use AIOps to uncover opportunities for customers to improve their carbon footprint, and we offer prescriptive guidance to make the recommended changes. From leveraging efficiency features, to tiering inactive data to the cloud, to enabling FlexCache® or FlexClone® technology, we tell you exactly what to do and how to do it.
All this detail is also available at the cluster level, helping customers create detailed reports and prioritize which systems need attention to reach sustainability goals.
The BlueXP sustainability dashboard supports NetApp AFF (both A-series and C-series) and NetApp FAS storage environments. All of these systems can be managed through BlueXP, making it easy to implement recommendations.
Information about Cloud Volumes ONTAP® storage is available for planning, but it does not include power, heat, or carbon emissions, because these are in the hyperscaler's environment.
Although it's not part of the dashboard, when it's time to refresh your storage system, our sales teams and partners can leverage these intelligent insights to help you choose a configuration that meets all your requirements and minimizes your carbon footprint.
Check out our sustainability page online for more details about what we're doing as a company to serve our customers and the world we live in. We are committed to creating energy-efficient technologies that allow our customers to reduce their energy consumption and reach their carbon footprint reduction goals. And nothing makes it more real than the numbers, shown in the following sustainability ticker.