Polo Academy of Dubai Polo & Equestrian Club Set to Compete at Islamabad
Four advanced junior polo players confirmed for matches to be held on 3rd to 4th June at Islamabad Club
Dubai Polo & Equestrian Club of Emaar Hospitality Group, in association with Pakistan's prestigious Islamabad Club, announced the participation of its Polo Academy junior players in the International Polo Challenge at an exclusive media briefing. The polo matches will be held from 3rd to 4th June 2023 at Islamabad Club, Pakistan.
The announcement was held in the esteemed presence of Lisa Matthews, General Manager of Dubai Polo & Equestrian Club, and Jan Azam, Polo Manager of Dubai Polo & Equestrian Club.
Ready for the friendly rivalry with Islamabad Club's junior polo team, the four junior polo players confirmed to compete for the coveted tournament title include 10-year-old New Zealand national Charlie Matthews, 11-year old Emirati Hassan Al Abbar, 15-year-old Hermes Werle from Germany, and 13-year-old Syrian-born Ayden Al Ahmad Ketmawi.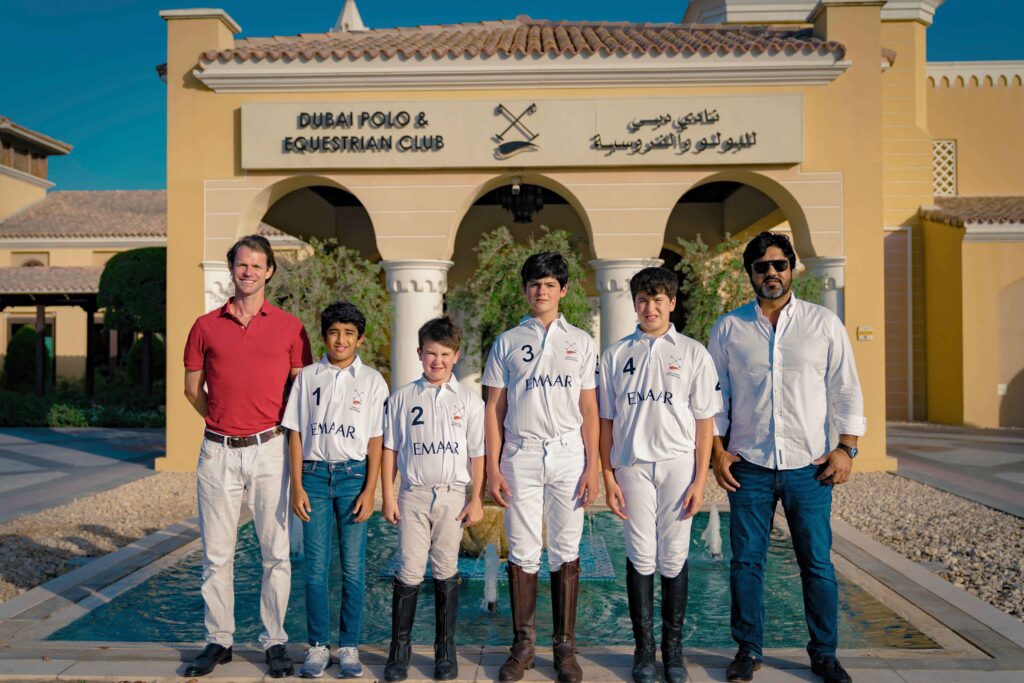 Lisa Matthews, General Manager of Dubai Polo & Equestrian Club, said, "We are beyond proud and grateful for the passion of these young players for the sport and their commitment to represent the country in a global avenue. The Polo Academy of Dubai Polo & Equestrian Club has worked tirelessly to make Dubai a well-known training ground for beginners and advanced enthusiasts alike. Thank you to the Islamabad Club for this amazing opportunity. The exhibition matches to be held at Pakistan are a true testament that polo as a sport is immensely growing in the international scene and we will continue to strengthen its vision."
Jan Azam, Polo Manager of Dubai Polo & Equestrian Club, added, "We are geared up for the upcoming matches this weekend, with our junior polo players in great shape and confidence to represent both the UAE and Dubai Polo & Equestrian Club. The four of them have been mastering the art of polo for more than two years now through weekly lessons and are indeed the future of this sport in the country."
Matthews added, "This year's polo season has seen a number of junior matches that kept these young players engaged in the sport across polo clubs in the UAE. We are delighted to have four polo players competing in Islamabad's International Polo Challenge, which is a great event to showcase many local and worldwide equestrian talents."
The Polo Academy at Dubai Polo & Equestrian Club offers individual and group polo lessons for adults and kids in well-maintained polo fields and advanced facilities. Their instructors cater to the broad range of participant's abilities and ensure that every student receives one-on-one instruction within a group format.
For further information, please contact Cristille Cruz on +971568440891 or cristillec@poloclubdubai.com.  For venue details, visit www.poloclubdubai.com or on Facebook www.facebook.com/dubaipolo and Instagram www.instagram.com/poloclubdubai & www.instagram.com/thepoloacademydubai.