Renewed and rejuvenated look of the store creates an inviting consumer experience for the new gen shoppers
The high fashion brand, Forever 21, operated by the renowned conglomerate Sharaf Retail re-opened its Mall of The Emirates on Thursday, 13th July welcoming back fashion enthusiasts, trendsetters, and eager shoppers alike. 
The reopening event was a celebration like no other, with an open invitation extended to everyone. Guests had the opportunity to meet none other than Kris Fade, the charismatic Virgin Radio Breakfast Show RJ, and Dubai Bling Star. Forever 21 fans met local celebrities while experiencing the vibrant atmosphere of Forever 21's iconic store.
A Modern And Inviting Atmosphere
The newly revamped Forever 21 store at Mall of The Emirates welcomes customers with a modern and inviting atmosphere. Step inside and you'll immediately be immersed in a world that effortlessly captures the essence of the brand's trendy fashion offerings. With a curated selection of the latest fashion trends, Forever 21 ensures that shoppers have access to the most sought-after styles and designs.
But this store isn't just a place to shop; it's an experience. Forever 21 has added a special feature to enhance customers' visit—a dedicated photographic corner. Here, fashion-savvy shoppers can capture their most fashionable moments and share them with their friends and followers. This personal touch adds a unique and memorable element to the shopping experience, making it even more enjoyable.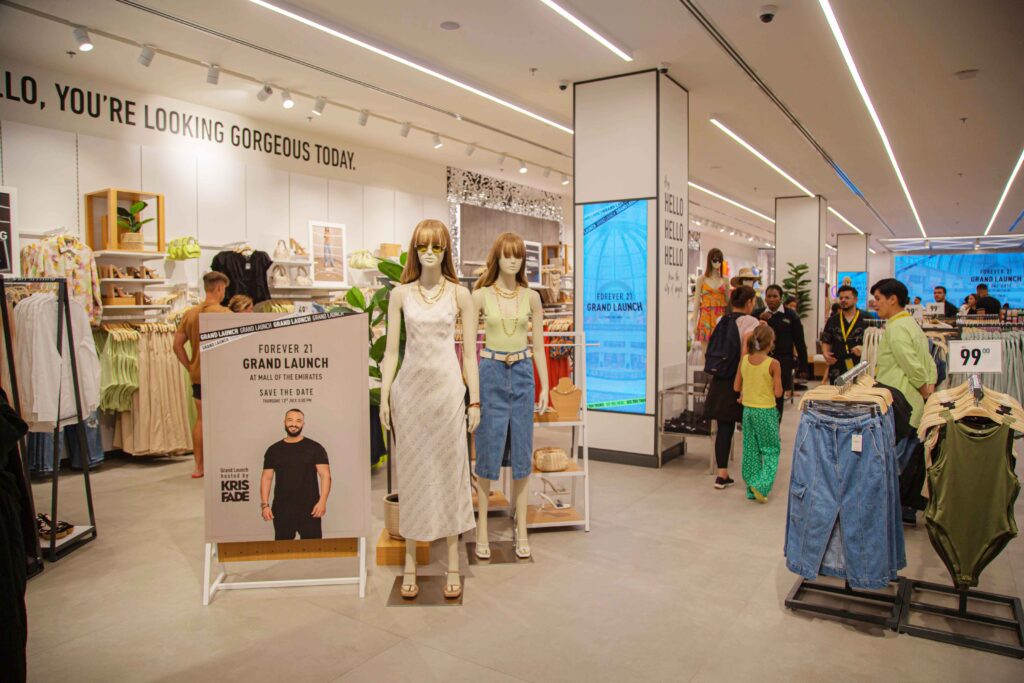 Revitalising The Traditional Shopping Experience
Forever 21's Mall of The Emirates store effortlessly revitalizes the traditional shopping experience. Every aspect of the store has been meticulously curated to create a chic and visually appealing space. The shop floor boasts an aesthetic that resonates with the brand's stylish identity, while innovative customer engagement opportunities abound.
From the moment you step foot in the store, you'll be captivated by the exceptional attention to detail. Each element has been carefully designed to create an unforgettable visit for fashion enthusiasts. With an enticing selection of merchandise, a stylish ambiance, and inventive customer engagement, Forever 21 at Mall of The Emirates redefines the shopping experience.
Speaking on the occasion of the re-opening of Forever 21's Mall of the Emirates Store- Yasser Sharaf, Vice President of Retail, Hospitality, Industry, and Financial Services at Sharaf Group, said, "We are thrilled to witness the grand re-opening of Forever 21's Mall of the Emirates store. Forever 21 has always been at the forefront of the fashion industry, offering trendy and affordable clothing options for all. With its refreshed store layout and an exciting range of new collections, I am confident that shoppers will be delighted with the enhanced shopping experience. We, at Sharaf Group, are proud to be associated with Forever 21 and look forward to continued success and growth together."