From 20 July, 'Picturing the Cosmos' invites young visitors and families to explore art and celestial space through interactive exhibits
Louvre Abu Dhabi will launch its latest interactive children's exhibition Picturing the Cosmos tomorrow,20 July, in partnership with Mubadala Investment Company and in collaboration with the UAE Space Agency and Mohammed Bin Rashid Space Centre. Inspired by the human fascination with the cosmos and the infinity of space, children will embark on an educational and inspiring adventure to explore the celestial universe through immersive displays and artworks spanning time and cultures.
Running until June 2025, Picturing the Cosmos allows young visitors to use their creativity to become space explorers, just like Emirati astronauts Hazza Al Mansoori and Sultan Al Neyadi. Children will discover the wonders of the cosmos by travelling through different interactive areas across the three levels of the Children's Museum. Guided by the well-loved characters Mansour and Shamma, little ones will be taken on an educational journey, learning more about art and space with the help of their childhood heroes.
The Children's Museum's three floors each cover a different theme: the observation of the sky; the planets and the constellations from Earth; and space navigation and Mars exploration. The exhibition will also address questions such as 'Why have humans always been fascinated by the cosmos?' and 'How has the sky been a source of inspiration and imagination through ages?'.
Reflecting Louvre Abu Dhabi's narrative as a universal museum, the exhibition features 25 artworks from different cultures and civilisations, including an astrolabe from the Louvre Abu Dhabi collection, an astronaut suit from UAE Space Agency and the Lunar meteorite, one of the largest pieces of the moon ever to be found, from the collection of the Natural History Museum Abu Dhabi.
With the support of France Museums, for this exhibition Louvre Abu Dhabi has received exceptional loans from Bibliothèque Nationale de France, Musée des Arts Décoratifs, Musée du Louvre, Musée d'Orsay, Musée du quai Branly – Jacques Chirac, Musée Guimet, and Centre Pompidou. Loans from Emirati partners include items from the Department of Culture and Tourism – Abu Dhabi (Natural History Museum Abu Dhabi), the UAE Space Agency and Sharjah Museums Authority (Sharjah Maritime Museum).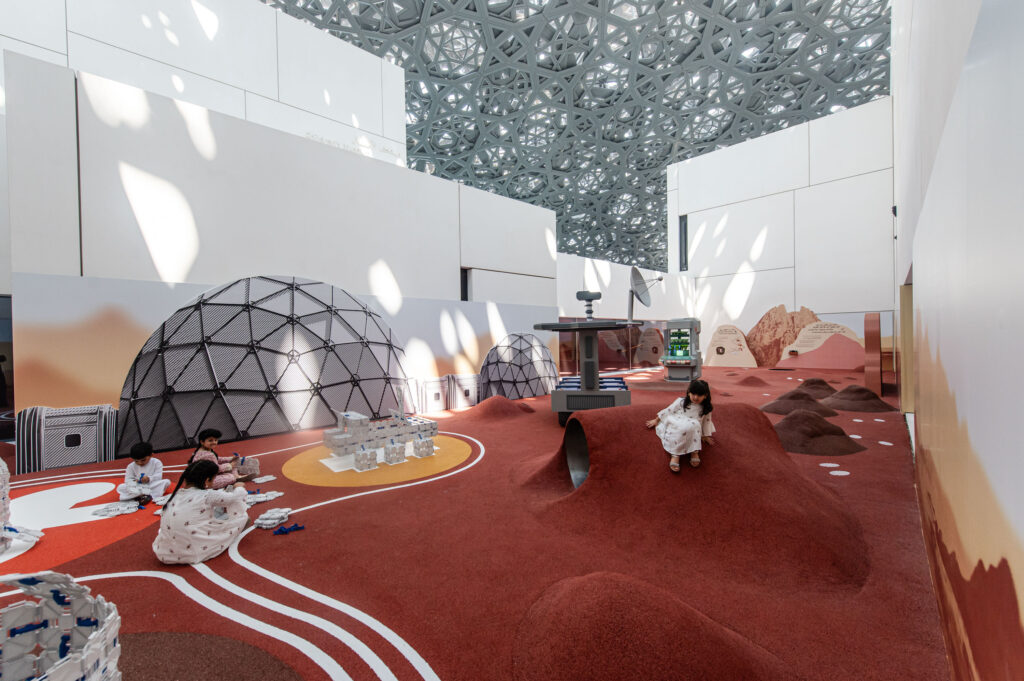 H.E. Salem Humaid AlMarri, Director General, Mohammed Bin Rashid Space Centre, said: "Our collaboration with Louvre Abu Dhabi mirrors our commitment to inspire the next generation about the endless possibilities of space exploration. Over the years, our journey into space has become a testament to human ambition, innovation, and our relentless pursuit of knowledge. By intertwining space exploration with art and history, this exhibition provides a unique platform to ignite young minds' curiosity and inspire them to dream big. We hope that it fascinates and nurtures the future generation of Emirati astronomers, engineers, and astronauts who will continue the UAE's proud legacy in space exploration."
Manuel Rabaté, Director, Louvre Abu Dhabi, said: "Picturing the Cosmos, the inaugural exhibition of Louvre Abu Dhabi's cultural season, reflects our long-standing commitment to lifelong learning and providing diverse and novel experiences to our visitors, across all ages and walks of life. Our visitors and community are at the heart of all we do and this remarkable journey at the Children's Museum will invite our young visitors to find endless inspiration as they explore the wonders of space and art."
Ugo Bertoni, Director for External Affairs, Outreach and Cultural Engagement, Louvre Abu Dhabi, said: "Louvre Abu Dhabi Children's Museum is an educational place to inspire creativity, curiosity, and learning. With the launch of Picturing the Cosmos, we are proud to have a unique exhibition that provides young minds with opportunities to discover, imagine, and make sense of the world around them based on observation of artworks and interactive experiences. Through this exhibition, we are building a bridge between the museum, art history, science and the UAE vision of space exploration."
Amine Kharchach, Interpretation & Creative Content Section Head, Louvre Abu Dhabi, said:"By using immersive design and gamification in our approach, we're creating a highly engaging experience, allowing our young visitors to discover the artworks and explore the topic of space and the cosmos in an unprecedented way. We have thoroughly enjoyed curating this exhibition, and we are eager to see children and their families enjoy it."
Entry to Louvre Abu Dhabi is free of charge for visitors aged 18 and under. Only accompanying adults above 18 will need to purchase museum tickets for the whole family to access all Louvre Abu Dhabi galleries and exhibitions. Access to the Children's Museum is included in the cost of admission.
The Children's Museum is an ongoing exhibition platform and extension of Louvre Abu Dhabi's educational programming. Since opening in 2017, it has welcomed children and families with four exhibitions: Travelling Shapes and Colours (2017 –2018), Animals, Between Real and Imaginary (2018 –2019), A Costume Adventure (2019 –2020) and Emotions! A New Adventure (2021-2022).