Offers Shisha, a modern twist on traditional Indian and International dishes, along side Live Music and sports screenings
Dubai residents have a delightful new spot to celebrate Diwali with the opening of a new modern Indian restaurant and cafe, Eva's Fusion, in Millenium Place, Barsha Heights. The new addition offers traditional and fusion dishes inspired by the rather expansive Indian cuisine and puts a creative spin on signature items from the country's north, south, and east, along with a touch of Shisha, live music, and sports screenings.
Eva's Fusion sits on the first floor of Millenium Place, Barsha Heights, with indoor and outdoor seating, and treats you to stunning skyline views. What makes Eva unique is its versatility in being not only a restaurant but a cafe too, making it perfect for a family dinner or a romantic evening, a business meeting, or just a casual gathering with friends where you can catch some live music or watch sports matches.
Spread across 2,500 square feet, Eva's fusion has a combined indoor and outdoor capacity of 95 pax.

The interiors of Eva's Fusion draws inspiration from a contemporary blend of modern aesthetics with influences from Indian and international cultures.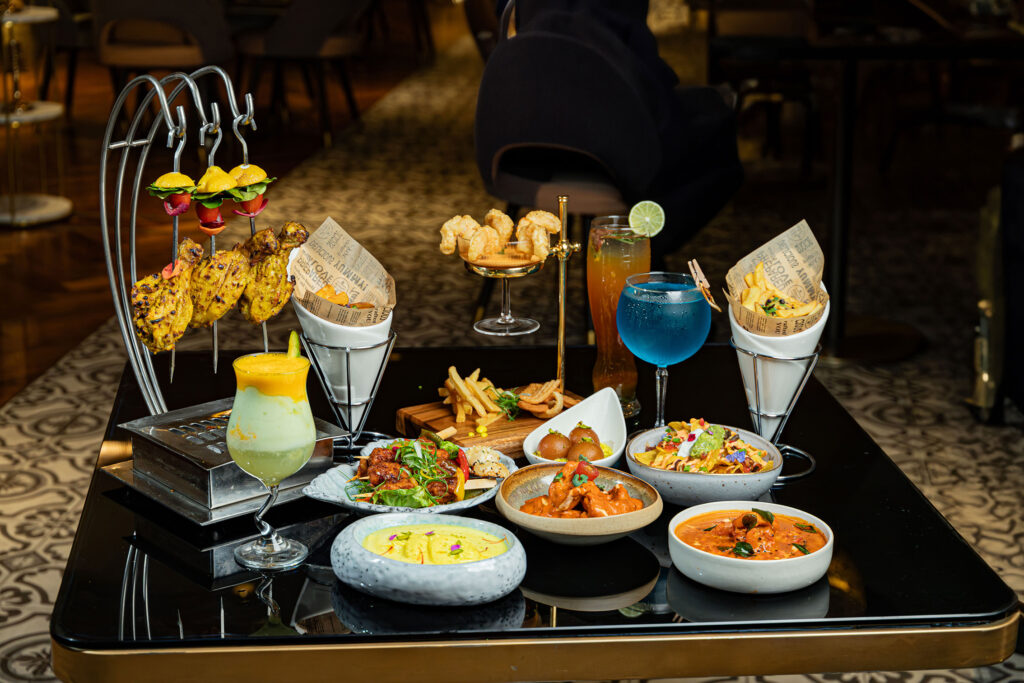 The story of Eva's Fusion begins with a dream—a dream of creating unforgettable moments. The restaurant has a team of handpicked passionate chefs and culinary experts to craft a menu that seamlessly merges international and modern Indian dishes, all paired with the allure of Shisha. Each dish is prepared with love and precision, guaranteeing an unforgettable meal.
For the menu, think of mouth-watering appetisers, flavorful starters, hearty main courses, seafood delights, tempting desserts, and, of course, a variety of Shisha options. Eva's Fusion boasts an extensive shisha menu with over 40 flavours on the menu, such as spring water, Hawaii, bombay pan, Indian flavour, and more.


Eva's Fusion gives classic Indian dishes a modern twist, with offerings like Dumpukht Chicken Korma, Signature Tandoori Lobster, Rosemary Chicken Tikka, and Gajar Halwa Tart Pistachio Mousse. It's a culinary journey that caters to everyone's taste. On the international side, you can enjoy dishes like Gambas Al Ajillo with Grilled Vegetables, Mesquite Smoked Salmon with Grilled Vegetables, and Whole Peri Peri Grilled Chicken with Fries.


Here, you can indulge in a variety of drinks and milkshakes, featuring tantalising choices like Banana Crunchy, Cafe Mocha, and Americano coffee. Of course, they also have the classics—tea and coffee.



"Eva is my daughter's name, and her name embodies the love and care we put into every aspect of Eva's Fusion. We've blended the essence of two incredible culinary worlds into a space that caters to all, crafting something genuinely one-of-a-kind," expressed Sam Akhtar, the owner of Eva's Fusion Restaurant and Cafe.

For those seeking convenience, Eva's Fusion offers online ordering. You can enjoy their delectable dishes from the comfort of your own space. It's a simple and secure process, with customizable options and speedy delivery. Whether you decide to dine in or order online, Eva's Fusion guarantees a memorable culinary adventure for all.